Car Washes
Other Products
DRB Systems
DRB Systems are state of the art point-of-sale cash register computer solutions for your car wash.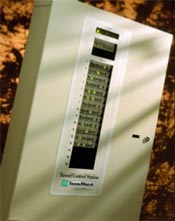 TunnelWatch is a software-based tunnel controller with three important advantages:
1. It eliminates hard to understand codes and replaces them with normal, easy-to-use English commands.
2. Upgrading your system is as easy as loading a new disk.
3. This approach makes TunnelWatch capable of many features new to the industry. Such as:
Eliminates employee tampering by use of unique security passwords on overrides or any controller function. TunnelWatch also tracks the length of time any override was used.
Decreases chemical/energy costs and wear on your equipment by measuring vehicles to the inch rather than the pulse driven method.
Regular equipment maintenance is easier as TunnelWatch tracks the number of hours each piece of equipment has been used.
Motors will last longer when using the "look ahead" feature to keep equipment running if a car is within a pre-determined distance.
All management reports available on screen or printed from master computer. Available from any location with installation of PC Anywhere software.
Water resistant, weatherproof Entrance Keypad for customer code entry.
Decrease chemical/solution costs. The priming feature in TunnelWatch calculates a variable amount of time needed for an arch to warm up, or prime, rather than using a fixed amount of time and wasting chemicals.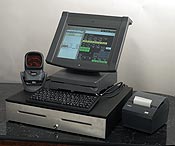 SiteWatch provides a flexible and powerful cash control system. It provides reporting for all aspects of a car wash site. Any of the described reports can be seen on screen or printed while the system is operating. All reports are available year-to-date, month-to-date, or for any range of days. Some reports include: Sales by Hour, Labor Costs by Hour, Timecards, Daily Reports, Two Period Comparisons, and many others.
SiteWatch will also function as a time clock with up to 99 different departments and handle up to 9999 employees per location. Produces end of period time cards, allowing for employee signature.
SiteWatch also supports off-site communication. It is compatible with PC Anywhere, allowing the operator to view any report from a remote site, or bookkeepers to generate reports from their offices. SiteWatch can also be programmed to send text messages to a cell phone showing hourly and daily income reports.
With the Prepaid & Wash Book Control, you are able to accept bar coded coupons and fleet and gift cards. Also, your receipt footers from the XPT Terminals can be printed with coupons and discounts for your customers to use on their next visit to the wash. Pre-paid barcode coupons can be sold or given out at other locations, like restaurants, as part of a cross-merchandising promotion.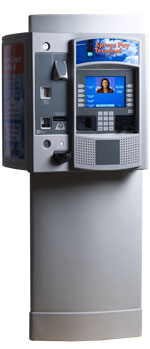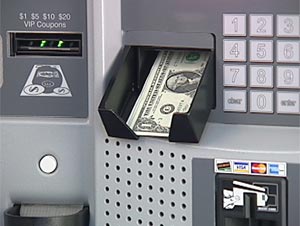 SiteWatch XPT is more than a self-pay station. It's also a powerful, flexible marketing and management tool with many important features:
Standard bill, coin and token acceptors and coin dispenser
Bill Dispenser
Instant Credit Card Clearing (less than 2-3 seconds)
Accepts prepaid cards and ticket books
No prepaid transaction fees
Works with prepaid cards that have been loaded with dollar value or wash units
Barcode scanner to read prepaid cards as well as coupon ads and mailers
Audio visual messaging system available in English and Spanish
10.4" Color Screen
Runs on SiteWatch System and provides separate reports for each terminal
Built-In Receipt Printer
Alerts & Bulletins provides real time data about each self-pay terminal to off-site computer or cell phone
User-Friendly ATM-style interface with large buttons
Heater and Solid State Memory Backup
Lockable front panel and cash box, keyed separately so receipt paper can be changed without access to cash
Ultrasonic Proximity Sensor Intelligent Receipt Messaging prints special offers and selling messages tailored to customers
Copyright © Car Wash Consultants, Inc.