Car Washes
Other Products
Credit, Fleet, & Gift Card Systems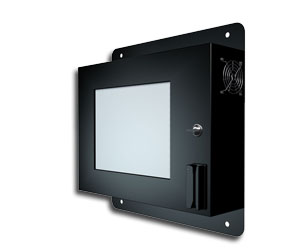 The Data Access Network, or DAN, is a powerful network that will provide you with greater through-put, more ways to attract loyal customers, and a more convenient method of keeping track of your money. DAN comes preloaded with all of the software needed to achieve greater levels of productivity from your business, including the Microsoft XP Professional Operating System.
With the Data Access Network, you can create a valuable new marketing program for your car wash using Hamilton's exclusive new customer value cards. You can sell them inside a convenience store or at your location as a prepaid gift card, or as a fleet account card with prepay or post-pay billing options.
The DAN also brings your wait for high speed credit card processing to an end. Is an average of five seconds or less to clear a credit card fast enough? All you need is a high speed internet connection at the site.
By networking DAN with your Gold Line Autocashier and your Hamilton Changers, you can remotely manage your site from the comfort of your favorite chair. Find out instantly how much money the machines have accepted or their operational status without leaving your home or office. With the new variable price structuring feature, you can set your Autocashier to change prices automatically on a daily or weekly basis. You can also change the messages on your scrolling display to advertise daily specials.
Used in conjunction with Hamilton's Data Access Network, Hamilton's Transaction Terminals offer your customers more convenient ways to pay for services. They offer you, the car wash owner, increased revenue by allowing your customers to use credit cards, Customer Value Cards and paper currency in self serve bays and at the vacuums.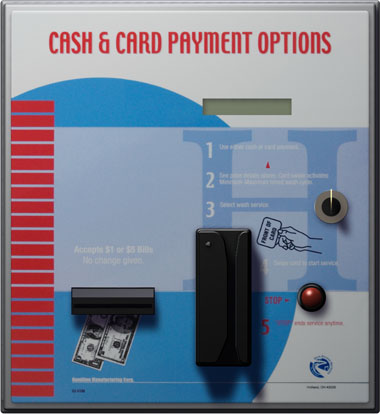 Boost Your Bottom Line! Hamilton's Transaction Terminal technology gives wash owners ways to increase wash time for increased profits. Eliminate the "Beat the Clock" syndrome caused by standard bay timers. Operator programmable for minimum and maximum prices and times. Increases average wash times - and revenues - in self serve bays and vacuums.
Easy Set up, Easy Access Transaction Terminals mount conveniently next to existing bay timers. Digital display shows time and charges. Accepts major credit cards and Customer Value Cards. Bill acceptor options also available. Offers high-speed credit card verification. Remote auditing and monitoring using the Internet.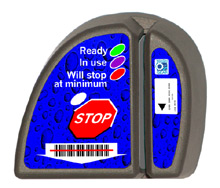 Accepting credit cards, fleet cards and gift cards in your self-service bays, vacuums and auto cashiers has been made easy with the Wash Gear Credit Card System.
This simple to use system comes complete with accounting software that is easy to use and understand.
CardMate and CardWorks combine to provide the car wash owner with automatic credit card authorization, credit, fleet and gift card accounting and billing. CardWorks includes all of these functions in one easy to use package. When transactions are completed they are immediately sent to the PC and are available for reports or billing in CardWorks.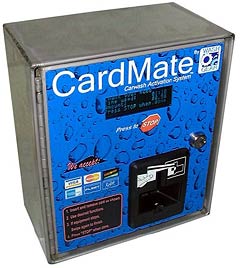 All you need to use the WashGear System is a Windows PC, no need for dedicated industrial type computers. CardMate harnesses the power of the PC and Ethernet technology so it can accommodate up to 50 terminals. Future expansion is also easy. Because the PC is the controller, no additional controllers are required.
CardMate Fleet and Gift Cards Fleet Cards promote customer loyalty, provide a systematic method of giving discounts and improve purchase frequency. Gift Cards are also a great way to market your business. With the best price on cards in the industry, you can afford to sell them at a discount or give samples to prospective Fleet Customers.
Copyright © Car Wash Consultants, Inc.